Having The Best-class Cleaning Services In Doha Is Now Not A Dream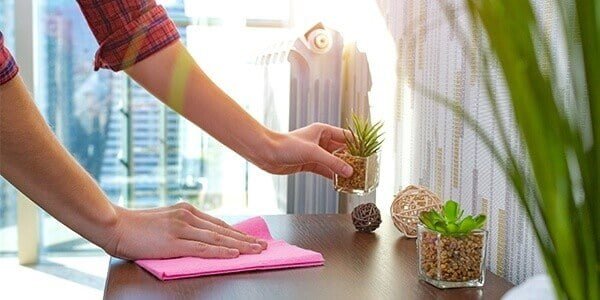 Can you think of getting done one of the most boring jobs in a single click? Yes, you are right. We are talking about the boresome and time-consuming task of home cleaning. We very well agree with you that cleaning the house is a hectic task and demands adequate time from your busy schedule. And hence, we at Fresho, own a pool of professional cleaners that provide best-class cleaning services in Doha.
Why you need the best-class cleaning services in Doha?
In the extremely busy week-day schedules, hardly anyone gets time for deep cleaning of their homes. However, if you are residing in any part of Doha, Qatar, there is a piece of good news for you. Finally, you can opt for hiring trusted cleaning services in Doha. But, why should you go for it? Here, we present some excellent positive arguments of having professional cleaners at your place who takes care of cleanliness and hygiene for you, on behalf of you.
You cannot be expert at all jobs
Imagine its a Saturday morning. You are just thinking of how to well spend your weekend with friends and relatives. And, suddenly you realize that there are a lot more clutter and dust sitting in your living room, window panes, kitchen shelves. Here, you need to keep all your plans aside and start doing dusting, mopping, vacuuming, and other kinds of stuff. The fact is you will not be able to do perfect cleaning of each and every corner as professionals do. You may end up spilling cleaning fluids or cutting your own finger with a stainless steel cleaning brush. Simple because you cannot be an expert at all jobs you perform. Cleaning is not something you do on a daily basis. So, there is nothing called a learning curve that applies. So, hiring professional cleaning services in Doha can be a savior for you. Think about it!
Usage of high-quality cleaning materials
We spend a good amount of money on our clothes and food. We even buy costly accessories for ourselves as well as our cars. But, how many of us, actually, care about the quality of cleaning solvents and washing materials? Using low-quality solvents can not only harm your hands but also might create some sort of unwanted pollution. Do you know what sort of solvents has good water compatibility, high solvency for greases and oils and good biodegradability? Not really. However, all the professionals who provide cleaning services in Doha are aware of the quality they should use. When you hire professionals to do the chores, you no need to worry about high-quality cleaning materials. Due care is taken care of by service providers. And, you do not need to pay extra money for the same. The packages contain the prices of cleaning solvents and cleaning materials.
Professional quality and ethical standards
Many would think that self-help is better than hiring a helping hand. Sometimes the budget is a concern. And, at times, even if maids or professional cleaners fit your budget, you'll still need to think through if you want a stranger alone in your home. Or whether those hired cleaners will do a good enough job or not. We live in a society where professional quality and ethical standards matter most. But, if you are going for the professional cleaning services provider over an unknown maid, you are in a way inviting cleaners with professional quality and ethical standards. There won't be any language barrier too since they are all qualified for their jobs with adequate etiquettes.
Quality or quantity – anytime
One thing is very vital to know that when you hire professional cleaners you are not at all compromising on quality. Yes, they do accept bulk orders that need to be fulfilled in a specific time frame. But, they also have an adequate number of staff members to cater to the customers' requirements on time. You will anytime get quality over quantity. You can either hire a professional for a small chore like sofa cleaning or for a hefty task like entire home cleaning. They typically have more flexible scheduling since they have an entire team of cleaners.
Closing thoughts
It is possible that you may find your home cleaner once it is cleaned by professional cleaning services in Doha as compared to when you clean it. Try it once and you will never look back to self-cleaning.
Latest Blog
Get a free quote now.
Ensure highest quality cleaning service with Qatar's best cleaning professionals. We are just a call away.