A day in the life of a cleaning business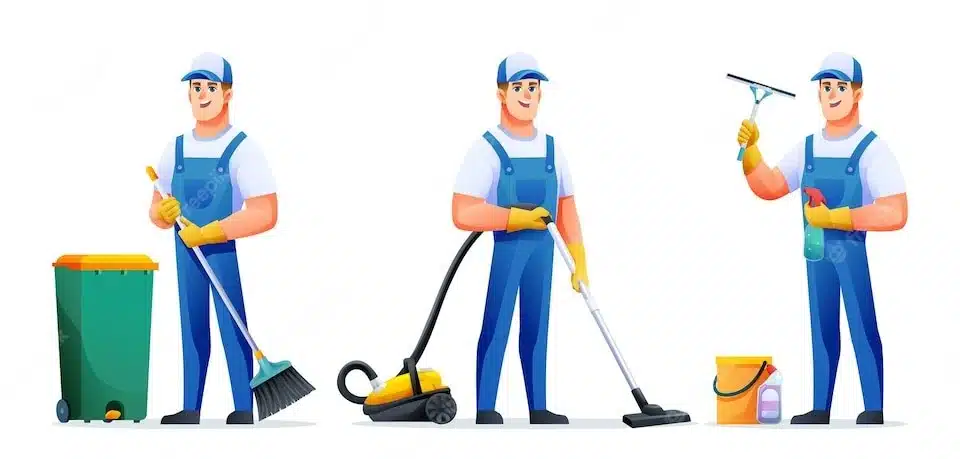 A day in the life of a cleaning business is a dedicated journey, starting with morning preparations and involving meticulous cleaning tasks. Fresho's story is of hard work and commitment to keeping spaces clean. Let's explore the inner workings of our cleaning company's daily routine.
A day in the life of a cleaning business
1. Morning preparation
Employees at the cleaning company start their day early. They come to the office or meeting spot and collect their cleaning tools and equipment. They also review their schedules for the day.
2. Cleaning assignments
When the cleaning crew arrives, they use a checklist or client instructions. They load tools, head to clients, and tackle dusting, vacuuming, mopping, sanitizing, and organizing. All tasks are done on time to keep clients happy and the schedule on track.
3. Client communication
Effective communication with clients is the lifeblood of any successful cleaning business. Understanding that maintaining a strong connection with our valued clients is essential even if it's addressing any concerns, accommodating schedule changes, or fulfilling special requests. Customer satisfaction is the priority, and it's always just a message or call away to make sure every detail is perfect.
4. Breaks and lunch
Hardworking cleaning crews understand the importance of balance in their day. They take well-deserved short breaks and indulge in a hearty lunch to recharge their energy. These moments of respite not only help them stay at their best but also ensure that when they return, they bring renewed vigor to make your space shine brighter than ever.
5. Equipment maintenance
The heartbeat of our cleaning operations lies in the meticulous care we bestow upon our equipment. Regular maintenance is our secret to ensuring that every piece functions flawlessly, delivering nothing short of excellence. It's a harmonious blend of cleaning, repairing, and even
upgrading equipment as needed, all to guarantee a performance that surpasses your expectations. They know that well-maintained tools are the unsung heroes behind spotless success, ensuring space that radiates cleanliness like never before.
6. Billing and administration
Behind the scenes at the office, dedicated administrative staff work their magic. They're the backbone of our operation, seamlessly managing the intricacies of billing, scheduling, and the paperwork that keeps everything in order. But that's not all – they're also your friendly point of
contact, ready to answer any questions and ensure your needs are met. Plus, they're the conductors of our cleaning symphony, orchestrating employee schedules to ensure your space is sparkling on time, every time.
7. Financial management
In business, it's the smart owners and managers who lead. They are the financial experts, carefully managing every financial aspect. They track expenses, manage revenue, and create budget plans, guiding fiscal success.
8. Future planning
In the changing world of cleaning businesses, no one is satisfied with staying the same. We're always working hard to grow, expand, and provide excellent service. The path to success means always looking for new ideas by carefully studying and trying out new cleaning products
and methods, aiming to be ahead of the game. The commitment to get better means that every place one cleans gets the best and most advanced cleaning solutions. In conclusion, the daily journey unveils the heart of a cleaning company's world, where cleanliness and making customers happy come first. Fresho has always promised to give its best and so it's one of the leading cleaning companies in Qatar. Fresho has a path marked by dedication, hard work, and a deep passion for crafting immaculate spaces for everyone to enjoy.
Looking for the best professional cleaning service company in Qatar? Look no further than Fresho! Fresho is regarded as the best cleaning company in Qatar. We have a team of experts and professionals who handle your residential and commercial spaces with the utmost care, keeping it clean and fresh for a lifetime.
Book a quote now!
You can book an appointment for a cleaning by filling out the form below or by calling us at 7741 6102
Latest Blog
Get a free quote now.
Ensure highest quality cleaning service with Qatar's best cleaning professionals. We are just a call away.